Pointed Brush for Beginners
1-Day Workshop
Monday, July 5 at 9:00 AM CDT
Beginner
Lettering
In creating this workshop, it has been my intention to try to make pointed brush lettering more accessible to beginners.
We will work through the necessary steps to success in a systematic, logical way.
My handouts include line guides that should work under both 8.5" x 11" and A4 paper.
Prior to the class I will send the students links to my two beginning YouTube videos How to Hold a Pointed Brush and Step One Warm-ups.
Morning session: We will begin learning the basic brush strokes by making patterns with deconstructed letter strokes and move to minuscule letters. The class will progress more quickly if everyone has taken the time to watch the videos. As we go along we will discuss various papers and ink so that students can make educated choices when adding to their personal collections.
Afternoon session: I will introduce simple majuscules and encourage participants to try the many variations that can be made with this extremely versatile tool.
At the end of the session I will give out the link to my YouTube video Elementary Brush Capitals.
A working knowledge of the Italic hand, though not essential, would make progress much simpler and faster.
Recommended Books:
Speedball Textbook 25th Edition: A Comprehensive Guide to Pen& Brush Lettering
Suzanne Cunningham, Carl Rohrs & Sachin Shah
Brush Lettering: An Instructional Manual of Western Brush Lettering Reaves, Marilyn; Schulte, Eliza – many second-hand copies are available.
The Lively Brush by Eliza Holliday and Marilyn Reaves – on sale now at John Neal Books – comes with a DVD. At the moment, John Neal has a great sale on The Lively Brush plus three Pentel Art Brushes, black, sepia and turquoise https://www.johnnealbooks.com/product/brush-lettering-kit The sepia would be great with walnut ink.
Essential Tools:
Black Pentel Art Brush-non pigmented ink: https://www.johnnealbooks.com/product/pentel-color-brush Item Code: FP57
Black ink: Whatever you have. Although the Pentel Art Brushes come loaded with ink, I like to dip mine when I use them. If you have a new one you will probably have enough ink for one day, but you may want to invest in a little ink just-in-case.
Paper: In order to excel you will use a lot. You want something with a bit of "tooth." Brown paper bags are great, but they are not all created equal. If you can find some that don't bleed with your Pentel Art Brush ink you are in luck.
I like the Pacon Medium Weight drawing paper recommended by Julie Wildman https://www.dickblick.com/items/pacon-bright-white-sulphite-drawing-paper-12-x-18-60-lb-500-sheets/ It is inexpensive and you will not feel guilty about going through lots of it!
OR
Strathmore 300 Charcoal paper – 9 x 12 glue bound pad https://www.dickblick.com/items/strathmore-300-series-charcoal-pad-9-x-12-glue-bound-32-sheets-64-lb-95-gsm/
If you don't mind spending a little extra my favorite paper for brush lettering is Rives BFK Lightweight paper 115 gms. https://www.dickblick.com/items/bfk-rives-printmaking-paper-26-x-40-cream-white-115-gsm-light-sheet
Recommended but not essential:
Like me, you have probably taken many workshops where you have purchased a lot of tools or paints that you never used and then wondered why you had to spend that money. OR perhaps you just like adding to your stash of calligraphy goods 😊. So I offer these things as recommended but not essential:
Yellow Pentel Art Brush: https://www.jetpens.com/Pentel-Art-Brush-Pen-Yellow-Orange/pd/10992
Kuretake Gansai Tambi Watercolor Starry Colors: https://merriartist.com/products/mc20sc-6v
Or any other mica-based paint. Coliro (Finetec) are fine but I like the Kuretake Starry colors better.
Any other Pentel Art Brushes that you may have. I dislike most of the colors that these art brushes come with, so I dip them in ink or watercolor when I use them.
Mostly I use them with the Kuretake Gansai Tambi 6 color pearl set: https://merriartist.com/collections/gansai-tambi-japanese-watercolors/products/zgmc20pc-a336v I'll demonstrate.
I am also exceptionally fond of Noodler's Apache Sunset ink at the moment. At John Neal's it's: https://www.johnnealbooks.com/product/noodlers-fountain-pen-ink I'll demonstrate why.
If you like to use walnut ink, then the Pentel Sepia Art Brush would be handy – or just a Pentel waterbrush: https://www.johnnealbooks.com/product/pentel-aquash-waterbrush John Neal Item Code: FP93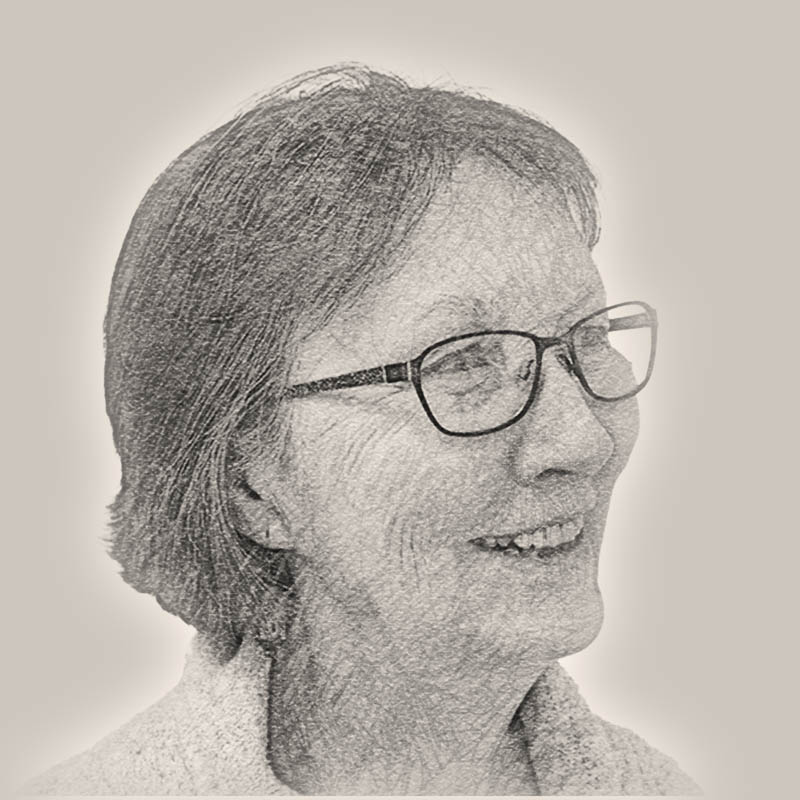 Click on photo to visit biography page