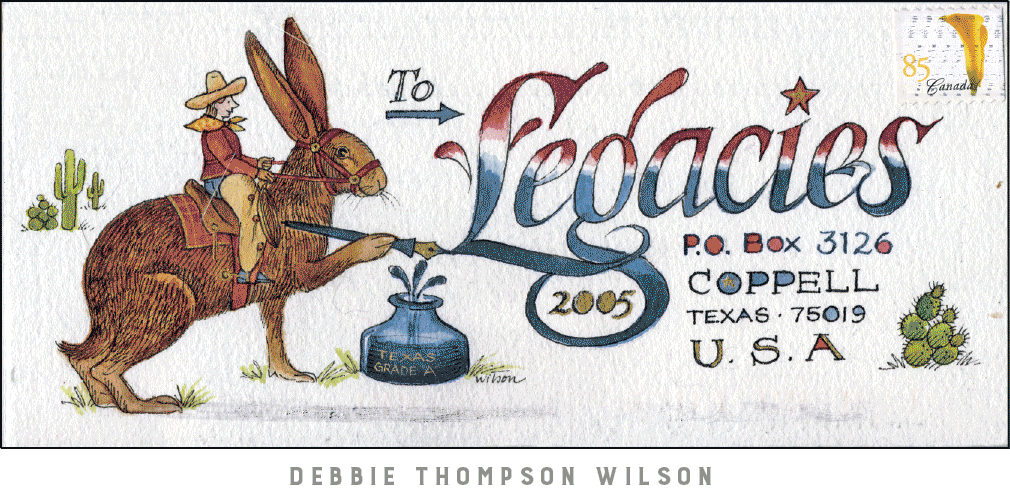 Entries from Legacies and Legacies II Pony Express contests
LEGACIES III PONY EXPRESS DECORATED ENVELOPE CONTEST
The Pony Express contest is an excellent way to show off new techniques and hand lettering you've learned while promoting the art of calligraphy.
The contest is open to anyone who has an interest in the Lettering Arts.
Western/Texas is the The Pony Express contest theme.
Prizes will be awarded to the top three entries in three categories, and one Best of Show:
• Pointed Pen
• Broad-edge Pen
• Humor
Artists may submit up to two hand-lettered and decorated #10 business-size envelope entries.
HOW TO ENTER
1. There is no entry fee.
2. Each entry must be a stamped #10 Business-size envelope, either manufactured or handmade, delivered through the U.S. Postal Service.
3. Entries may not be enclosed in a separate envelope or in any protective covering.
4. Only Standard #10 business envelopes are permitted.
5. Calligraphy or hand-drawn artistic lettering must be used to address the FRONT of the envelope and mailed to:
Legacies III
Post Office Box 3126
Coppell, TX 75019
6. On the BACK of the envelope, clearly label along the top edge in small size your return address: "FROM" your name, address, email and Instagram handle (if you have one).
7. If your entry is returned to sender, contact ponyexpress@txlac.org
8. All mail is sorted by machines, which can sometimes misread calligraphy.
Make sure the zip code is easily readable.
CRITERIA FOR JUDGING
Only the front of the envelope will be judged; the name, address and email of the entrant must be written clearly on the back in order to send winning entries a prize.
1. Creative interpretation of the contest Western/Texas theme to transform an ordinary envelope into a work of art.
2. Quality of calligraphy or artistic lettering used to address the envelope.
3. Effective use of color and design using standard media such as paint, resist, pencil, original hand-cut rubber stamps.
4. Computer-generated or enhanced lettering is not permitted and will be disqualified.
5. Stickers or manufactured rubber stamps are not permitted and will be disqualified.
TIMELINE
April 19, 2021 – The Call for Entries and theme are announced.
June 5, 2021 – Entries must be postmarked no later than June 5, 2021 and received by June 12, 2021.
The contest will not acknowledge receipt of entries, however all entries will be scanned or photographed and uploaded to www.txlac.org website.
July 3 – 7, 2021 – Judging will take place during Legacies III by conference attendees voting for their favorite in each category.
July 9, 2021 – Winners announced on www.calligraphyconference.org and www.txlac.org.
Juried envelopes will be exhibited at public libraries throughout the state of Texas and may also be published in the Pony Express, a full-color booklet capturing the essence of creativity and hand lettering.
All entries become the property of Texas Lettering Arts Council and may be used to promote the lettering arts through publications (print or web), exhibits and educational classes.